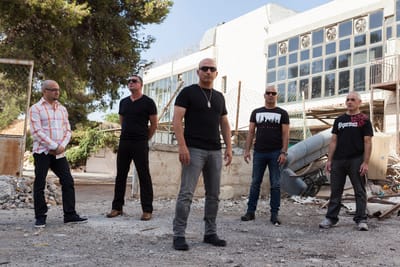 Mazar's Band is the love child and natural evolution of the Jerusalem-based Israeli Progressive Rock group "Musrara Band", formed in 2015 by Ofer Mazar and his brothers Benjamin and Roy. Watch and listen to "Musrara Band" performs in Hebrew:
https://www.youtube.com/watch?v=9eCYMwjEE4Y
While "Musrara" recorded and performed in Hebrew, limiting its outreach to the boundaries of the Holly Land, Mazar's Band records and performs in English, expanding its outreach to all music lovers around the world. Influenced by the world's greatest Classic and Progressive rock bands, Mazar's Band Progressive Rock style is unique and uncompromising. The leader of the band and its musical producer Ofer Mazar's approach to both recording and live shows is to encourage his band mates to bring their musicianship to the center of the stage without reservations. The result is a unique and energetic type of music.
Time moves on. The world is changing. In the process, some art forms are lost in time. Ever since the ground breaking work of our great rock heroes of the 1960s and 1970s, the genre is in a constant threat of demise, losing to other genres of this age, especially those relying on computers based instruments and drum machines. Guitar, Piano or Saxophone solos in songs are almost extinct. The same goes to progressive and out of the ordinary song arrangements. We watch with broken hearts how wonderful musicians are reduced today to playing chords in studio recordings and in live shows.
Mazar's Band is all about keeping Rock alive by letting musicians do what they were born to do. Performing Ofer Mazar's original music and lyrics, the band is giving voice to the exceptional talents of its five musicians, pushing progressive rock to its limits in its
ProgRockShock
series of albums. These musicians are:
Ofer Mazar
- Lead Vocals, Lead and Rhythm Guitars, Keyboards,.
Nissim Mayost
- Drums.
Dudu Levi
- Bass Guitar.
Amir Azulay
- Lead Guitar.
Uri Biran
- Keyboards.
Although Mazar's Band plays original music, there is one song in its arsenal which was not written by Ofer Mazar - the iconic "While My Guitar Gently Weeps", written and composed by the legendary George Harrison. The band recorded the song both in Hebrew and in English and got the licence from the rights holders - "Penny Farthing Music" for both versions. The Hebrew version can be found on Musrara Band's "Coffee & Cards" album (
https://musraraband.bandcamp.com/album/coffee-cards
) and the English version can be found on Mazar's Band Evolution album (
https://mazarsband.bandcamp.com/album/progrockshock-evolution
).
Availability in the World's Leading Music Stores
Mazar's Band 15 song Prog-Rock-Shock Album, is available for listening in the world's leading music online stores:
Apple Music
:
https://music.apple.com/us/album/prog-rock-shock/1527420443?fbclid=IwAR3A3XiayVCLshUMIucE1HJHRrWamxdpsWkUTOsP4TPpoFjBoS71k5UYKoI
Spotify:
https://open.spotify.com/album/6cnjWCIcjOCc7MI9xCq4dS?fbclid=IwAR3FBXbIAuwT0Em0VfSdm5TWYKFZP9QULql9mUIxm--3_sdT87IV4Y9y2Ig
Amazon Music:
https://music.amazon.co.uk/albums/B08FXW22PW
Albums' Information
In this site, Mazar's Band's music is presented in three
ProgRockShock
albums which are available for listening on this website'. Simply click the Album's name in the home page's upper panel. The albums are also available for free listening and free downloading on our band pages in BandCamp -
https://mazarsband.bandcamp.com/
The Records:
PRS Eruption (2020)
1. Rocknroll for Real
2. False Identity
3. Jason's on the Run
4. Stay with Me
5. You Are not Alone!
6. Betrayal
7. Broken Heart
8. Mistake
9. It's Not the Time to Fall In Love
PRS Evolution (2021)
1. Left Behind
2. Burned to the Ground
3. Chasing Shadows (Instrumental)
4. Drifting Away
5. Give it Time!
6. Wish to Be
7. Lend Me a Hand (Featuring Nick Petrillo on the Grand Piano)
8. Lady Luck
9. While My Guitar Gently Weeps (Cover. George Harrison)
PRS Conclusion (2023)
1. We are Rare
2. The Crown
3. Carry Me
4. Delilah
5.The Final Wave
6. Boston Harbor
7. Sky High
8. Heart of Gold
9. My Love
10. Got Lucky
All the songs in the albums were written, composed and produced by Ofer Mazar, except for the song "While My Guitar Gently Weeps", written and composed by George Harrison, and is brought forth under license given to the band' leader, Ofer Mazar, by the rights holders "Penny Farthing Music", version number 01918804. Maddie's Awesome Dream Train Screenplay and Music
The band's original music is incorporated in a screenplay for a motion picture titled "Maddie's Awesome Dream Train". The screenplay is available for downloading in PDF. To do that, simply go to the header of our website and click 'Script'. The movie songs are ready for listening by clicking the "Remastered Songs". All rights reserved to Ofer Mazar, who wrote both the screenplay and the music.